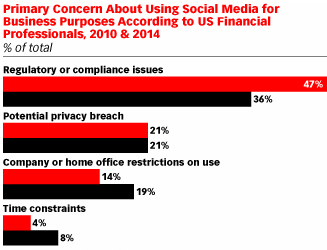 It's a well-known fact that compliance and regulatory issues have held many financial institutions back from embracing the social media world, but based on data released in May 2014 by American Century Investments, this may be changing.
While regulatory or compliance issues remained the top concern about social media usage among US financial professionals polled in Q1 2014, the percentage citing this as their primary worry had dropped from 47% in 2010 to 36%. Concerns about privacy breaches remained steady, still cited by just one-fifth of respondents. Worries about use, time and technology restrictions were the areas that saw a higher percentage in 2014 vs. 2010, but all were cited by few. The group of respondents with no concerns had risen.
As concerns about compliance and regulatory issues have dropped, and others have remained at relatively low levels, the financial industry's opinion about social media has become more positive. In 2014, more than one-third of US financial professionals said that social media was valuable for their business, compared with around one-quarter who said so in 2010. Even more impressive, the majority of respondents acknowledged that social media was an emerging trend and recognized that it would have significant benefits for businesses like theirs in the future; 44% had said the same in 2010.
Most financial professionals believed that social media was here to stay, with the percentage of US financial professionals who believed social was a fad with little business value dropping from 22% in 2010 to 13% this year.
As a result, the financial industry is putting more money into the social space. February 2014 polling by Duke University's Fuqua School of Business commissioned by the American Marketing Association found that financial firms were upping their social media spending. US marketing executives in the banking, finance and insurance industries said that while they currently spent 5.9% of their marketing budget on social media, they expected this share to grow to 7.4% over the next 12 months and 15.7% in the next five years.
Read the original post at Emarketer.com