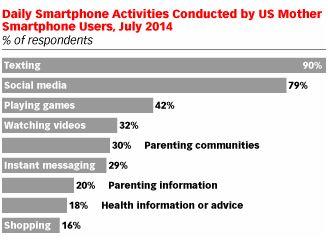 What are today's mobile mothers doing when they're tapping and scrolling on their smartphones? According to July 2014 polling by BabyCenter, they're likely texting or logging on to social media.
Nine in 10 US mother smartphone users surveyed said they used their phones at least daily to send texts, while 79% said they accessed social media via such a device once a day or more. No other activity came close, with third-place games drawing in 42% of expectant females or mothers with children under age 9.
BabyCenter noted that smartphones were a key way mothers connected with the world. On average, they sent 26 texts and 14 instant messages (via platforms such as WhatsApp and Facebook Messenger) and logged on to social media platforms 15 times each day.
Speaking of social media and mobile, smartphones were the most-used device among mothers for logging on to Facebook and Twitter. Such devices even beat out traditional laptops, indicating that busy mothers often access these sites and apps while on the go—or simply while hanging out in a computerless room with their kids. Tablets, the larger mobile device of the two options, were the least popular for accessing these social platforms.
eMarketer expects 28.8 million US mothers, which includes female internet users ages 18 and older with children under 18 in the household, to log on to a social network via any device at least monthly this year, representing 85.0% of all mother internet users. We also estimate that 90.2% of these mother social networkers will access Facebook monthly, and 25.7% will log on to Twitter.
While just 32% of smartphone-toting mothers told BabyCenter they watched videos daily on their phones—through sites such as YouTube, which they also preferred to access via smartphone—this group is still important to pay attention to as mobile video continues to rise in viewership. Short clips for entertainment (73% of respondents) and how-to and tutorial videos (62%) were the top videos mothers watched on their smartphones. When watching the latter, mothers preferred cooking and do-it-yourself home improvement videos, cited by 78% and 66%, respectively.
Read the original post at Emarketer.com