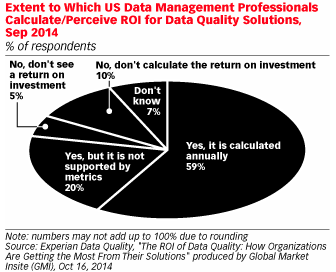 Marketing technology adoption will continue to grow next year, and thanks to the massive amount of data marketers now have, tools focused on making sense of all the figures are of particular interest. In September 2014 polling by Experian Data Quality, 89% of US data management professionals said they were investing in data quality solutions, and the majority were spending more than $500,000 on such technologies.
Data tools that helped with monitoring and auditing, standardization, data profiling and data cleansing were the most popular, each used by more than half of respondents.
But as marketers continue to funnel dollars toward data quality solutions, can they prove they're worth it? Experian found mixed results. On the positive side, nearly 80% of data management professionals said these tools had a positive return on investment (ROI); however, around one-quarter of those respondents weren't actually backing this up with metrics—an issue in the long term, as solid figures are typically needed to maintain budgets for those solutions.
Looking at a broader range of marketing technologies, platforms and solutions, Q3 2014 research by CMO Council and Tealium found slightly worse results. Here, less than half (46%) of marketers worldwide said the marketing technologies they used were producing ROI. The remaining 54% of respondents weren't seeing ROI from such tools, weren't sure if there was a return or were still working on determining this. The report noted that these results were likely why 39% of respondents were also struggling to make a business case for marketing technology spend in the first place.
Despite this struggle, when asked how marketing technology investments affected business economics and marketing ROI, 54% of respondents said they provided a greater return and accountability of marketing and advertising spend—the second-highest response. Just 14% said such tools hadn't had much of an impact.
Read the original post at Emarketer.com