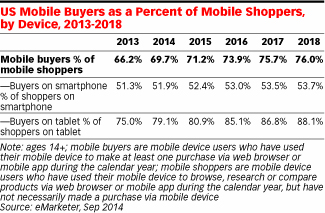 Consumers don't think about online or offline—they're shopping. Most retailers, on the other hand, are still having trouble providing a unified shopping experience. Omnichannel marketing as a term may be trendy, but there's nothing ephemeral about the idea that customers prefer a seamless, cross-channel shopping experience, according to a new eMarketer report, "Omnichannel Trends 2015: Mobile Is the New Retail Hub."
While the vast majority of retail purchases still take place in stores, the purchase decision process increasingly flows through smartphones. There are a few exceptions: Most groceries and packaged goods aren't reconsidered each time. But for considered purchases, people are researching online before and during their time in a store.
Mobile is the catalyst for sales captured elsewhere. eMarketer estimates that there were 145.9 million mobile shoppers in the US this year, up 23 million from 2013. Only about half of smartphone shoppers, however, will buy anything on their phones. In 2015, we expect mobile to account for only 1.6% of total US retail sales.
A Placecast survey conducted by Harris Poll in October 2014 confirmed the multifaceted role of smartphones in shopping. Only 14% of US smartphone owners said they planned to make a purchase on such devices this holiday season. Far more consumers intended to use their phones to find a local retailer (39%), get social feedback on a potential gift (38%) or find a coupon in-store (33%).
Even so, most mobile research leads to a purchase, just not on the smartphone. In a March 2014 survey conducted by Nielsen for xAd and Telmetrics, between 70% and 80% of US smartphone or tablet users said they had completed or would soon complete a purchase related to their smartphone search. The study also found that more than 40% of consumers considered a smartphone or tablet their most important media resource for a purchase decision.
In-store mobile use is prevalent across age groups. comScore reported that in April 2014, 35% of US internet users showroomed, including nearly half of millennials and even 28% of seniors 65 and older. In a more recent Q3 2014 comScore survey, 44% of smartphone owners said they participated in showrooming.
Read the original post at Emarketer.com